Lead Pastor Update
Posted on Aug 1, 2023

From Chris Yarco, Lead Executive
Dear WCC Family,
As we continue to conduct the search for the right person to serve in leadership for our Willamette Campus, I want to thank you for your faithful prayers and peaceful patience. Be assured, there is no slowdown to the ministry and to the discipleship that is happening at our church each day.
Throughout this process, we've invited our campus and central staff to offer feedback and insight in order to gain alignment and agreement around the character, education, experience, competency, and care for the community that we believe our next leader should have. Their voice is essential and we are well served by this team of leaders at WCC. (Don't forget to visit their bios and learn more about them!)
Campus Staff
We have a professional, Godly staff that supports the mission and ministry of the building up of servant leaders. Our campus staff facilitate the day-to-day ministry you experience and participate in throughout the week. From local discipleship to family care to local outreach, these are the faces of those you'll interact with regularly as we lock arms to inspire people to know, love, and follow Jesus.
Lead Pastor Roles
We believe strongly in team and collaboration. The new lead pastor of WCC will join a team of loving followers of Jesus who serve in many different roles. Once hired, WCC's new lead pastor will become a member of the Executive Team. Together, with our elders and other executive team members, they'll help frame the vision and mission, ensure sound teaching and doctrine, and lead and serve the people, ministries, and programs of the WCC campus as well as all our other church campuses.
Keep praying for who God has planned for us… and keep leaning into ministry. When you're here on Sundays, you're part of a healthy community. When you participate and serve during the week, you are helping make a healthy community. We need you and we love you.
"Count it all joy, my brothers, when you meet trials of various kinds, for you know that the testing of your faith produces steadfastness. And let steadfastness have its full effect, that you may be perfect and complete, lacking in nothing.
If any of you lacks wisdom, let him ask God, who gives generously to all without reproach, and it will be given him. But let him ask in faith, with no doubting, for the one who doubts is like a wave of the sea that is driven and tossed by the wind." - James 1:2-6

Respectfully,
Chris Yarco
---
Posted on Jul 25, 2023

From Chris Yarco, Lead Executive
As part of the family of Willamette, we invite you to learn more about who we are as a church, and to stay informed about how we are growing and addressing the transition in campus leadership. If at any point, you desire more information, we'd love to have a conversation with you. Just ask.
Our Elders
We have one elder board who is accountable for the overall mission and vision of our church. These elders typically worship at their home church on one of our campuses, but they are responsible for providing solid governance, wise counsel, and healthy teaching for our entire church family.
As Lead Executive, Chris Yarco reports directly to the Elder Board, and together this team is responsible for the ultimate decision for the next Lead Pastor to join the team. This team is working with Lead Pastors Jon Furman and Daniel Knutson, members of the staff, and members of the WCC family to clearly identify the character, experience, and vision required of the future lead for the WCC Campus. Once that discussion is complete, and with much prayer, we will develop the path toward meeting with possible leaders, and how we will make final decisions. Keep praying for this process and we will continue to update you.
Mike Grubb, Joe Villa, Kevin Marple and Rich Miller are current elders serving multi-year terms. For those who are curious, elder candidates are invited by the team to journey alongside existing elders in a non-official manner for many seasons before adoption to eldership. We are consistently praying about and connecting with those who may be called for future eldership by evidence of their Godly character, humble servanthood, and wise discernment.
Joy Through Unity

The Apostle Paul challenged the church in Philippi to "make my joy complete by thinking the same way, having the same love, united in spirit, intent on one purpose" (Philippians 2:2). As Paul was writing to a diverse group of people filled with Jews and Gentiles, men and women, young and old, wealthy and poor, former slaves and Roman guards (see Acts 16), he encouraged them to be one. Their unity around what was most important to them did not crush their diversity; instead, it showed a spotlight on the source of their unity—the gospel. Thanks for being part of the Willamette family.
Respectfully,
Chris Yarco
---
April 27, 2022 - With deep regret, we share that Brian Becker has elected to end his tenure as Lead Pastor of Willamette Christian Church in mid-June and will transition to a church in northern California with his family this summer. Watch his video and read his letter below for more information.
Dear Willamette Christian Church Family,
Coming out of the Covid era, we all knew that there were significant challenges in front of us. For these past two and a half years, I have absolutely loved tackling these challenges while being at Willamette, working with a fantastic staff, and seeing you as a congregation grow and lean into what God wants to do in you and through you.
As the fog of Covid has cleared and we have settled into our new rhythms, it has become clear that God has placed a new call on me and on my family's life. I want to share with you that I have accepted a new ministry assignment to become the Lead Pastor for a church in Northern California. This is unexpected, but we believe it is a role and a call that we are to respond to in obedience, even as it means making a significant change that we know impacts so many.
Please know that this decision is fully my own and that leaving such a wonderful community and team comes with deep sadness but also deep conviction. While we did not think my assignment at WCC would be this short, we can see how God used this time to build a bridge to the future, both for the campus and for our family.
When I think back over my 10+ year relationship with Willamette, including the adoption of Hope City by Willamette, the adoption of Milwaukie Christian, and my transition to the Willamette campus, I never imagined that God might be calling me to this kind of a change after only a few years in my current role.
You invested financially and relationally to help build our fledgling church plant. You responded to the call when we knew that Hope City needed more support to become the flourishing church that it is today. It has been a great joy to me and to Jenn to see the continued growth of Hope City while also helping bring hope and vision to the Willamette campus as we've emerged from the Covid era.
I want to be clear that both Jenn and I love and believe in Willamette Christian Church. We pray that there is nothing or no one that would seek to create division with our decision to pursue this next role. We do not disagree theologically, ethically, morally, or biblically with the direction of WCC, or with those in leadership. On the contrary, we are excited about its future. The phenomenal team and elders have treated us with incredible respect and dignity. We are blessed to have had this opportunity.
My family will be visiting our new community over Memorial Day weekend, but I will be back with you to speak on June 4th and 11th as we conclude our time at WCC. We are grateful that we will have some time to find a home and community so that our girls can get settled before the start of their new school year in early August.
I know this change might be difficult for some of you personally, and for Willamette as a church, particularly in light of other challenges we've all faced over the last few years. I want you to know that I wouldn't be making this change if I weren't confident in God's plan for Willamette. God has been faithful to Willamette and its people for more than 65 years, so you can trust that he will continue to bless Willamette's ministry in the future.
We believe that there is hidden beauty in saying goodbye. It forces us to cling to Jesus more than to any single person. It allows God to comfort us in our mourning. It allows God to shape us and show us how to step up and be a stabilizing presence when others need a steady hand. We believe in you as a church, that you will allow God to do that in you and through you. We know you will be in good hands as you are served by the staff and by the teaching team while future leadership decisions are being considered.
It's the people that make Willamette great - and though I will dearly miss being your lead pastor, I'm confident that God will bless you and keep you. I pray that we all will allow God to mold and shape us according to his perfect plans and purposes.
Now may the God of hope fill you with all joy and peace in believing, so that by the power of the Holy Spirit you may abound in hope. - Romans 15:13 (NKJV)
Sincerely,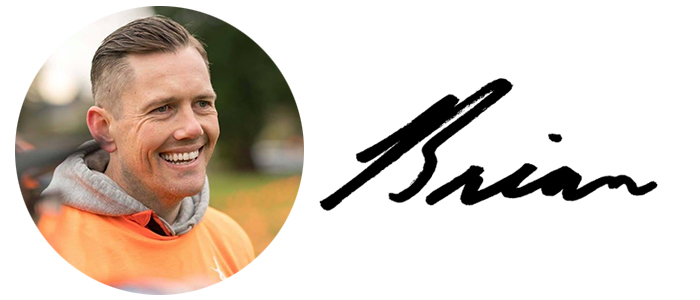 Pastor Brian
In Malachi 3:6, God declares, "I, the Lord, never change." While the Lord never changes, sometimes his plans for us personally and as a church do.
With deep regret, I share with you Brian Becker has elected to end his tenure as Lead Pastor of Willamette Christian Church in mid-June. He will transition to a church in northern California with his family this summer.
We trust God's Word in Ecclesiastes 3:1, "To everything there is a season, and a time to every purpose under the heaven: ..."
While we trust, we also sincerely grieve this unanticipated loss and change with you.
Brian and Jenn Becker have been "with" the Willamette family for ten years. Our relationship started when we learned of a young start-up church plant in SE Portland called Hope City. Through your generosity, WCC provided financial and relational support to ensure Hope City could overcome the hurdles of a new church. As the relationship grew, Brian and Jenn asked to join WCC to ensure Hope City would continue to serve the SE Portland and Milwaukie communities for decades to come. Today, Hope City continues to grow and flourish under the shepherding of Pastor Daniel Knutson.
When Brian and Jenn moved into leadership at the Willamette Campus, we believed, as they did, this would be a long-term home for them. It excited us to think about God doing amazing things through their leadership for many years. Today, there is a deep sadness the years will not be as long as we had imagined, but we trust the Beckers are following where they feel our God has called them. We also trust God has plans underway to provide a new pastor for Willamette.
During this interim season, the church elders and I commit to helping shepherd the Willamette community and the staff through this change. We are already praying for divine guidance and wisdom in the selection of a Lead Pastor. If you want to know how to help, please join us in praying for the Becker family's transition and the new pastor for Willamette Christian Church.
We know nothing surprises God, but in our humanness, the change of a pastor may feel surprising, disappointing, and/or hard. We want you to know we understand those feelings, too. God is still with us. His plans will continue to be carried out. We will cling to Him in faith, and bring our disappointment to Him for healing, as we anticipate the future He is preparing for us.
"For I know the plans I have for you," declares the Lord, "plans to prosper you and not to harm you, plans to give you hope and a future."- Jeremiah 29:11
This has been my church home for over 24 years, and I love Willamette. I trust our elders and our staff team - and I trust each of you to continue to walk with hope by faith. Thank you for the encouragement your trust, prayers, and support provide as we walk together into our next season.
For I am about to do something new. See, I have already begun! Do you not see it? I will make a pathway through the wilderness. I will create rivers in the dry wasteland. - Isaiah 43:19
I am available to you, and you can reach me at [email protected] or at the WCC office at 503-656-2328.
In His grip,
Chris Yarco
Lead Executive